July 31, 2016
Dear Preggo
|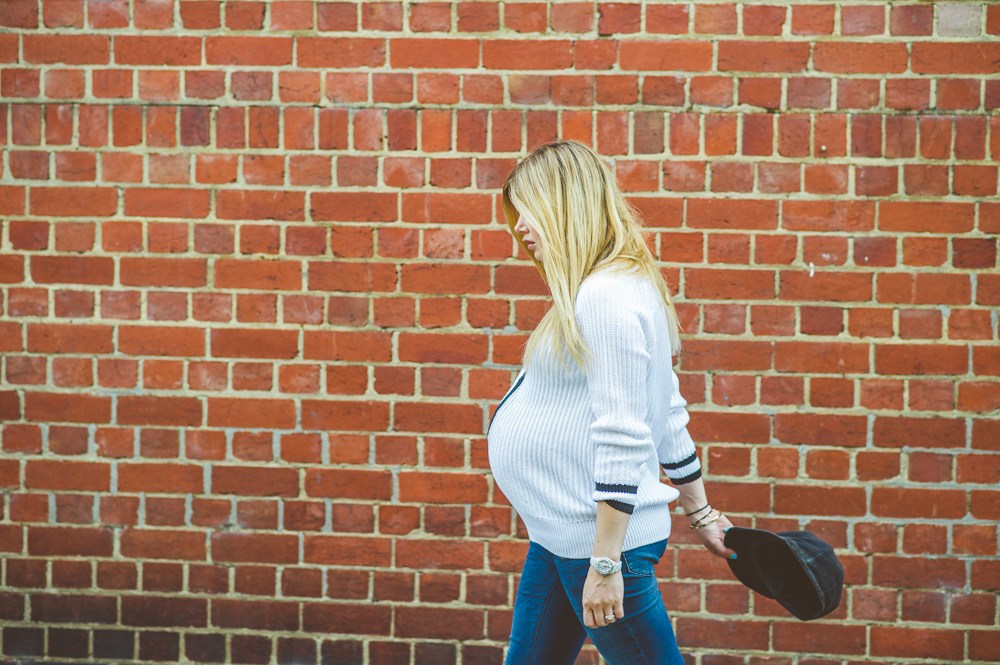 Dear Preggo,
Since I am an expert now that I have been pregnant twice before, I thought I would shed some light about pregnancy now that I am on the other side.
Life can be tough when you are lugging that bigger-than-a-soccer-ball bump around on those tree trunks of yours and your mind starts to get a bit (a lot) cloudy.  So, I thought I would just break some things down for you and let you know, its OK!
It's OK to cry for no reason or at the sight of some cute little Jacadi booties in the store.
It's OK to cry for any reason for that matter, especially when you realize you want Nutella and don't have it in the pantry.
It's OK to spend way too much money on nursery furniture because you will re-use it for all future babies you have.
It's also OK to buy way too many things you 'might need' for the baby (except six pairs of mittens, seven beanies, eight nighties you don't really need those) because you would much rather have everything than send out a sleep deprived husband to come home with the wrong brand of nappy wipes.
It's OK to accidently skip one day of your vitamins.
It's OK to have sex whilst pregnant.
It's OK to actually have a ridiculously, horny-goat-weed-worthy, slip-into-something-a-little-more-comfortable-but-not-the-track-pants-comfortable crazy sexy drive!
It's OK, at your own discretion, to have your nails, hair, wax, eyelashes, spray tan done (my first pregnancy, I looked like a heavier, uglier-because-I-was-so-natural looking me, ghastly!)
It's OK to not want an epidural, you are not crazy.
It's OK to want an epidural-straight-up-the-moment-you-walk-in.
It's OK to wear thongs or sneakers with every outfit whilst pregnant (I will forgive you).
It's OK to have your midwife or ob on speed dial and/or visit the hospital once a week. No one will mind, they would rather you check and be happy than worry and miss something you should have checked.
It's OK to go public hospital or private.
It's OK that you can't see your vagina anymore, don't worry, she isnt going anywhere, she'll be back and trust me, you wont wanna look at her.
It is OK that you can smell every f#ing persons bodily odour's, one day you will lose this super power and be normal again.
It is OK that all you think about is sleep and junk food, all-day-long…
It's Ok that you havent walked your beloved dog in a while, you are doing her a favour by preparing her for what is to come-aka only memories of her being number one (and allowed to sleep in your bed)
It is OK to blow your budget on your pram and then it's OK not to have the most expensive pram, they all do the same things.
It's OK to hire a doppler to hear your babies heart beat three times a day (or more like I did)
It's OK to keep peeing on a stick even when you clearly know you are preggo, you just wanna see that line again.
It's OK to keep your double line pregnancy test for years to come (or is it?)
It is OK to wear legginging when you really wished you weren't going to give in to them.
It's OK to wear gym clothes daily.
It's OK to look like a sexy AF preggo also.
It's OK to sit on instagram all day stalking skinny girls or post baby skinny girls, we all do it, but don't get hooked up on it, everyone is different and weight shouldn't be a priority.
It is OK to send hubby out for a Macca's run
It is OK to eat only salt n vinegar chips, peanut butter and jam on toast and dry biscuits because you can't stomach anything else for, oh, I dunno, 5 months like I did x2!
It's OK to be cruisy, you sometimes forget you are pregnant (if this is you, please speak up and tell us your secret in the comments!)
It's OK to not shave and just let it gooo let it gooooo.
You don't 'have to' get a wax for the grand finale aka D-day, your ob won't notice it anyways.
It's OK to worry.
It's OK to worry that you wont be a good mum, that you might be too selfish, that you don't have the instinct, that you have no clue what to do when it comes, trust me, once the baby is here, you will be the best mum that baby could have and your baby teaches you a lot. Just so you know, you wont stop worrying about your child even up until it is married. Fact!
It's OK to worry about the pain of child birth, yes, it hurts, but we all do/did it and  we all go back and you will forget about it or just have an epidural (and yes, your vag will be back to normal)
It's OK dear preggo, you are making a human in your tummy, they are resilient, they will love you and you are going to be great! (and don't let your husband/partner forget it.)
More fun stories I wrote for THE MUMMY CONFIDENTIALS (here)